PRESS RELEASE
FOR IMMEDIATE RELEASE
Contact:
Jane Napolitano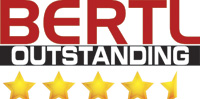 1590 Metro Drive, Suite 116
Costa Mesa, CA 92706
Phone: 714-432-7226
Fax: 714-432-7222
Email: jane@paradigmimaging.com
Website: http://www.SCANtopia.com
Paradigm Imaging's imagePRO® Ci40 Receives 4 ½ Stars from BERTL®
Costa Mesa, CA – February 5, 2010 – Paradigm Imaging Group, a leading distributor of large-format scanning and printing solutions, is pleased to announce the imagePRO® Ci40 scanner is the recipient of a 4 1/2 star, Outstanding Rating from BERTL®.
BERTL® described the imagePRO® Ci40 as "a feature -rich, reliable, and high-quality scanner with a color capture accuracy that is among the best in the industry." BERTL® also stated that the imagePRO Ci40 "represents a remarkably good value for your money. Its combination of software, pricing, and fast black and white and color scanning speed makes this 40" wide format scanner an excellent choice."
BERTL® also noted the following benefits of the imagePRO Ci40:
The use of long-life LEDs for illumination

The text sharpness attained when testing various scanning resolutions

Ease-of-use and trouble-free maintenance
Says Randy Geesman, President of Paradigm Imaging Group, "It's rare to receive a 4.5 Star rating on any product let alone one at such an attractive price. This is why the imagePRO® Ci40 provides one of the best value to performance ratios I've seen in this product category."
About Paradigm Imaging Group
Paradigm Imaging Group is a large format solutions provider whose expertise extends from scanning and printing products to imaging systems integration, software development and product distribution. Paradigm counts among its clients, companies in reprographics, architecture, engineering, construction and manufacturing, as well as numerous public agencies at all levels of government. Since 1989, Paradigm has grown to become a leading provider of large format scanning and printing solutions.
Send mail to: info@paradigmimaging.com with questions or comments about this web site. SCANtopia is a division of Paradigm Imaging Group, Inc. Established In 1989. Copyright © 2002 Last modified: November 21, 2011