PRESS RELEASE
FOR IMMEDIATE RELEASE
Contact:
Jane Napolitano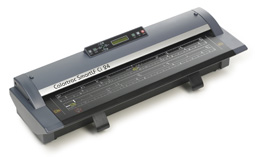 1590 Metro Drive, Suite 116
Costa Mesa, CA 92706
Phone: 714-432-7226
Fax: 714-432-7222
Email: jane@paradigmimaging.com
Website: http://www.SCANtopia.com
Paradigm Releases imagePRO Ci24HD Scanner
Costa Mesa, CA – February 22, 2010 – Paradigm Imaging Group, a leading distributor of large-format scanning and printing solutions, announces the release of the imagePRO Ci24HD 24" Color Scanner.
The imagePRO Ci24HD is a compact yet powerful scanner designed for those with both tight workspaces and budgets. The portability of the imagePRO Ci24HD, combined with the state-of-the-art paper transport system and the ability to capture fine lines and intricate details makes this scanner a valuable component for any construction job site, architectural office or small design studio. Starting at $3,650 for the monochrome version, the imagePRO Ci24HD is one of the most cost conscious scanners on the market.
A few of the dynamic benefits of the new imagePRO Ci24HD include:
600 dpi true optical resolution and 9600 maximum resolution

48-bit color and 16-bit monochrome data capture

Fast 3.3 ips color and 10 ips monochrome scan speeds

1 year return-to-depot warranty with available on-site upgrade
Says Randy Geesman, President of Paradigm Imaging Group, "This is a perfect addition to our extensive line of large-format scanners and multifunction systems. The imagePRO Ci24HD has all of the components required to meet Paradigm Imaging's exacting standards of quality, dependability, and affordability. We are once again answering the demands of an ever-changing market."
About Paradigm Imaging Group
Paradigm Imaging Group is a large format solutions provider whose expertise extends from scanning and printing products to imaging systems integration, software development and product distribution. Paradigm counts among its clients, companies in reprographics, architecture, engineering, construction and manufacturing, as well as numerous public agencies at all levels of government. Since 1989, Paradigm has grown to become a leading provider of large format scanning and printing solutions.
Send mail to: info@paradigmimaging.com with questions or comments about this web site. SCANtopia is a division of Paradigm Imaging Group, Inc. Established In 1989. Copyright © 2002 Last modified: November 21, 2011